In any kind of medical practice, knowing how to properly use medical coding maximizes payments and deters problems with stressful audits. Evaluation and management codes (E/M codes) are commonly used in general medical practices by physicians and other QHPs (Qualified Health Professionals).
Upcoming E/M code changes will go into effect in January 2023, according to the American Medical Association (AMA). Below is a closer look at E and M codes, the upcoming E/M code changes, and more that practitioners should know. 
A Closer Look at E and M Codes 
First, what is evaluation and management E M coding? Evaluation and management codes, also referred to as E and M codes or E/M codes, are CPT (Current Procedural Terminology) codes that range from 99202 to 99499. These AMA codes are some of the most commonly used codes for general office visits among family physicians, specialty care practitioners, and emergency room physicians.
Which services use an evaluation and management E&M code?
E/M codes are not used for procedural visits, such as diagnostic testing, radiology, or surgeries. Instead, as the name implies, E/M codes apply when providers either offer evaluation or management of a patient's health.
What are evaluation and management E M services? Several types of services fall under the broader E/M services umbrella, such as: 
General office visits 
Home care services 
Preventative medicine services 
Hospital visits 
Because these codes are so broadly defined, a number of types of services will fall under these codes. For example, E/M codes may be used when billing for a general patient follow-up appointment at an orthopedic surgeon's office just as they may be used when a patient visits their general provider for a checkup. 
What are the three components for evaluation and management E&M?
According to the Centers for Medicare & Medicaid Services (MCT), the three main components when choosing the correct level of E/M services offered are: 
Patient history – Chief complaint history, history of present illness, review of systems, and past, family, and/or social history 
The examination process – The type of examination provided during the visit, including general multi-system examination and single organ system examination
Medical decision-making – The complexity of making an informed medical decision, including the number of diagnoses and management recommendations and the risk of complications  
Other contributory factors may also be involved in selecting the appropriate E/M codes as well. For example, coordination of care and counseling may be involved in choosing the right code, and time spent with the patient may also be involved in some E/M codes. 
Coding and Regulatory Changes in 2023
Occasionally, E/M code changes affect the guidelines for how these codes should be used. The AMA released a massive CPT Editorial summary in March 2022. This summary offered a list of proposed E/M code changes that will affect a number of different types of providers. As noted earlier, these code changes are set to take effect on January 1, 2023. 
The coding and regulatory changes came about due to physician concerns voiced in 2021 regarding the time-intensive burden of E/M code selection. While the full summary of AMA coding guidelines is yet to be released, some of the currently released changes include: 
Consultations for Inpatient/Outpatient Visits – Deleting 99251 nd 99241—which reflects the level-one service code deletion for 99201 in place in 2021. 
Prolonged Services – Addition of 2 new E/M codes (908X0 and 903X0), deleting 99345 -99357, and revision of 99483 and 99417.
Emergency Department – Revision of 99281-99285 E and M codes; no specifics given.
Inpatient/Observation - The proposed E&M inpatient coding guidelines include deleting 99217-99226 observation codes and adding new terminology to inpatient CPT codes 99221-99223, as well as 99231-99233. 
Home Health/Residence – Deleting 12 codes and revising 8 others to consolidate repetitive services. 
Keep in mind, this is not a comprehensive list of all the AMA CPT code changes scheduled to take effect in 2023. Be sure to review the full summary posted by the AMA for further information.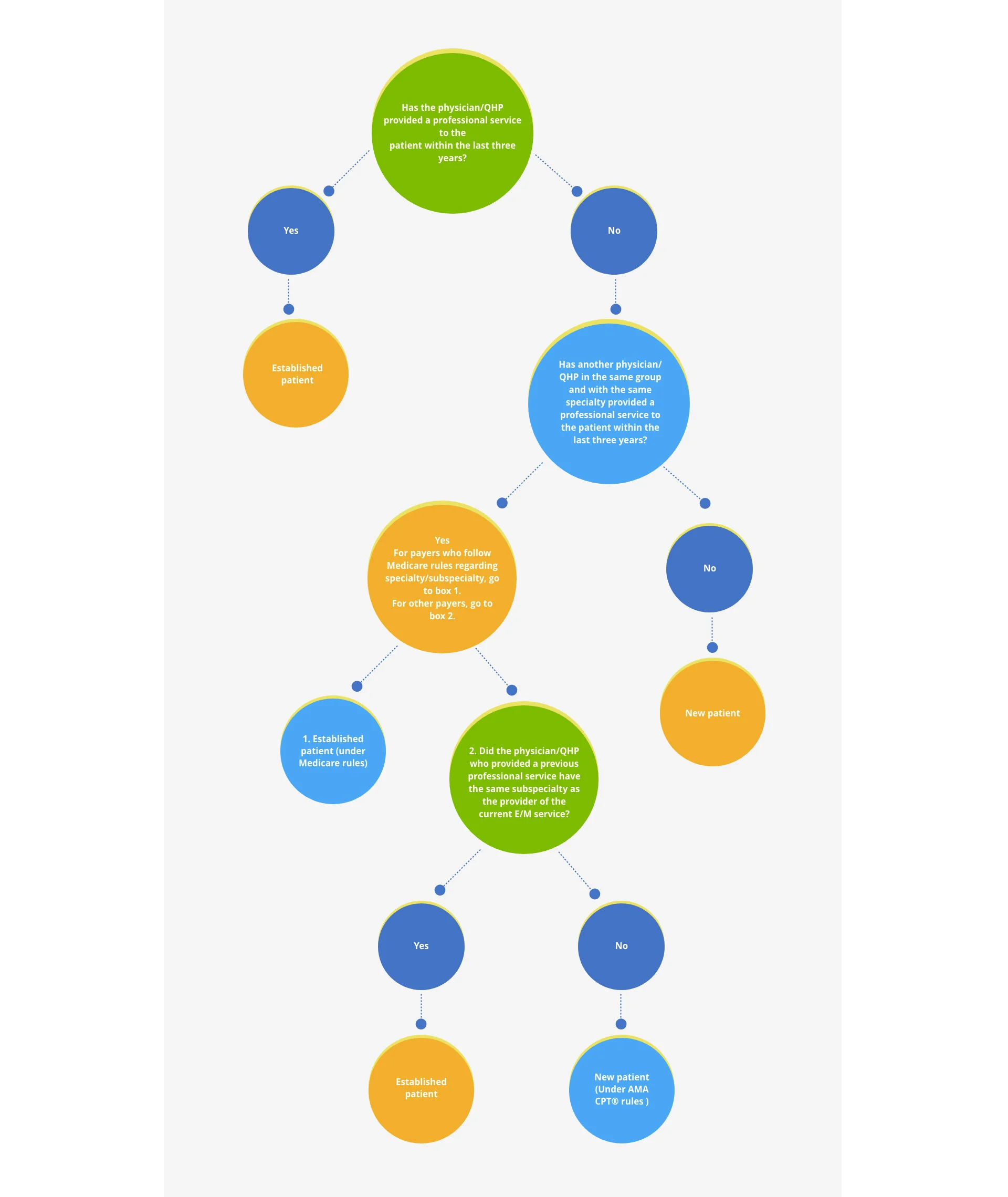 The Future: More Big Evaluation and Management Changes 
Some code changes have already taken effect when it comes to evaluation and management. There has been an ongoing effort by the AMA to make billing for evaluation and management visits much more simplified than it has in the past. For example, as of 2021, codes that were previously used for office visits like 99345 through 99357, can no longer be used, but this simplified selecting E/M codes to a degree. However, as the new code changes take effect, this will mean even bigger changes in coding for many care providers and organizations. Further, these changes likely won't end with the 2023 code overhaul. 
According to some sources in the orthopedic field, E/M code revisions are likely to "go big" by 2023. In other words, that could be even bigger changes to come that providers should be on the lookout for in the coming years. 
How E/M Code Changes Impact Your Practice and Patients 
According to the AMA, the E/M code changes will give providers the opportunity to simplify physician notations and reduce burnout. Because the new code changes are meant to make finding the correct code a simpler feat, this will ideally make administrative processes less time-consuming. Sometimes "note bloat," as it is sometimes referred to by overwhelmed physicians, cuts into patient care time. Therefore, both direct care providers and the facility staff will hopefully have more time to spend interacting with patients. 
The AMA offers a number of resources to help with the impending changes. Videos that offer step-by-step instructions for physicians and training modules are already available. 
Stay On Track with E/M Code Changes with the Best EHR 
As the AMA codes are revised and new rules go into effect, it is critical that providers check with their EHR vendors. Be sure to confirm with your EHR vendor that the system's coding applications will conform to the new evaluation and management code changes.  
Looking for the best EHR system for your modern practice or considering making a change? Be sure to check out PrognoCIS EHR options by requesting a demo.